Mailchimp QuickBooks Integration is FREE.
When you combine the world's most popular small business online accounting software program with the most popular email marketing platform, what do you get? You get 4.5 million lucky small business owners who can now automate marketing activities in ways that they once could only imagine.
Here is a breakdown of the numbers:
There are no statistics available, but Mailchimp's active users will likely include most of the 4.5 million QB online customers. So the opportunity for millions of small business owners is tremendous.
Mailchimp Introduces QuickBooks Online Integration
In August 2021, Mailchimp introduced QuickBooks Online for FREE for all its paid plans, including its basic plan at $14.99 per month. As a result, 4.5 Million QuickBooks Online small business users can now create Mailchimp Marketing Automation campaigns to educate and promote products and services to customers during the most critical times to win business.
Before FREE QuickBooks Online Integration, the paid commercial options for QuickBooks online integration with MailChimp were complicated and required ongoing costs, and they include:
OneSaas $19/month – $299 per month
Automation platforms that charge monthly fees based on transaction volumes, including Automate.io and Zapier, PieSync NV
Customers that use Free Mailchimp QuickBooks Integration can:
View detailed contact history
Automatically tag contacts
Segment customers based on QuickBooks activity
Trigger automation from QuickBooks activity
How Mailchimp QuickBooks Integration works
The process of setting up QuickBooks Integration with Mailchimp is easy and takes about 5 minutes. No development skills or coding knowledge are needed. This article will help you connect QuickBooks Online account and sync customer and order data to Mailchimp. To get started with Mailchimp QuickBooks integration, follow the three easy steps below.
Log in to Mailchimp and go to Integrations and search for QuickBooks Online.
Click connect, and Mailchimp guides you through logging into QuickBooks and adding your customer data as an audience in MailChimp.
Navigate to your MailChimp audience and view the details of your contact list from QuickBooks. This information includes: a QuickBooks Customer Tag, a record create date, QuickBooks total revenue and Average Order Value, an activity feed of QuickBooks transactions, and customer contact details.
Watch the video below for detailed instructions.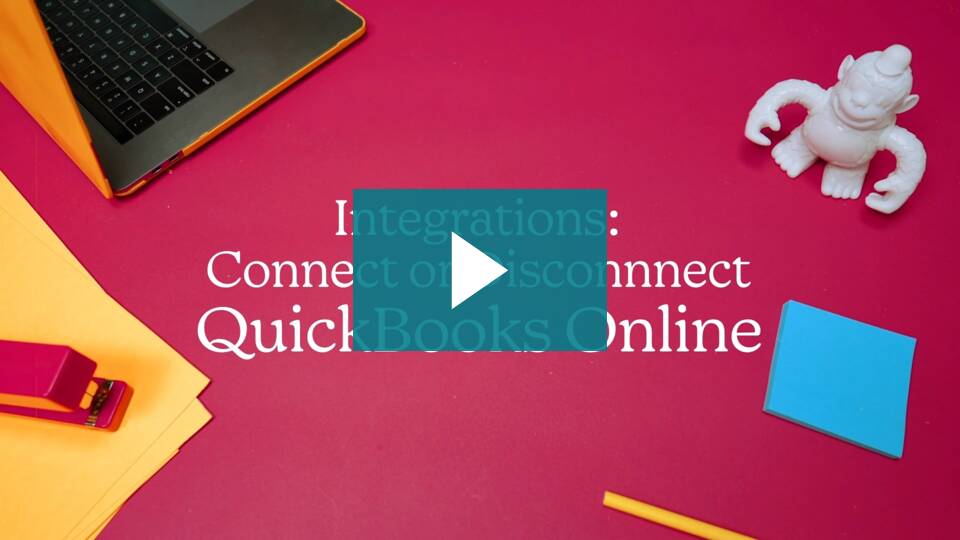 What can Small Business Owners do once they connect QuickBooks Online to Mailchimp?
While this new integration feature may not sound impressive at first, the actual benefits are substantial. They can significantly relieve cash-strapped businesses that need marketing support but don't have a budget to hire a marketing manager.
Small businesses no longer need to add, update or remove customers in MailChimp manually. Instead, this process is done for them automatically!
For QuickBooks Online customers, gone are the days where you forget to update your email marketing list. Syncing your QuickBooks customer contact data and transaction history with Mailchimp will save business owners time updating their email subscriber list. This feature has substantial benefits, but on top of this, business owners will be able to create and schedule marketing automation campaigns to reach their customers with the right message at the right place and at the right time.
Managing the customer journey with marketing automation tools is no longer just for large corporations!
Small business owners that use QuickBooks online can now use Mailchimp's Customer Journey builder to map and automate ways to engage customers as they move along their personalized journey.
MailChimp provides ideas and templates under the Automations tab. For example, you can use the Customer Journey templates for idea generation or select one to prepopulate a custom email marketing campaign that will suit the needs of your business.
How to use triggers and create customer journey's in Mailchimp.
Email marketing automation campaigns start with an event that allows you to engage your customers. In Mailchimp terms, this is called a trigger. Finding the right trigger for an email marketing campaign may differ for each company, but it can be the key to successful email marketing.
A trigger could be any transaction, event, or behavior that creates an opportunity for customer engagement or reengagement. Immediate behaviors and data collected over time are triggers for marketing campaigns. For example, a trigger can be a date, action, or condition that makes a customer the target for an email marketing campaign. As a result, emails can then be sent based on actions taken (or not) by a customer.
The following are popular customer journey campaigns that will help you grow your small business:
Engage New Customers – When a customer starts doing business with you for the first time, it is the opportunity to begin by introducing them to your team, products, services, or process that sets you apart from the competition. By educating new customers, you set expectations and get them on the right track to become your ideal customer. This first campaign will also allow you to tag them based on their behavior to identify them as potential high-engagement customers.
Recover lost customers – If a customer stops doing business with you, don't worry. You have a higher probability of winning back a lost customer than converting a prospect into a first-time buyer. (Forbes) The MailChimp recover lost customer journey template sends two reengagement emails spaced 3 and 7 days apart to shoppers who haven't purchased in 90 days. You can set the email spacing and rules for reengagement based on the unique business knowledge of your customers and business.
Identify high and low engagement customers – Mailchimp provides automation to weed out low-engagement contacts that haven't done business with you in a while. By tagging customers based on their level of engagement, Mailchimp helps you focus your effort on your high-engagement customers.
Promote cross-sell opportunities – Well-trained employees can recognize an opportunity to help customers by making suitable product recommendations. Now Mailchimp can automatically do the job for you. Use the Journey builder to identify opportunities, educate customers to enhance the customer experience with cross-selling and up-selling promotions. You can also tag and remove customers from the automation once they have made the purchase.
Remind customers to reorder – If your products and services get reordered frequently, then you have the opportunity to be helpful to customers by sending a reorder reminder message to customers. You can trigger reorder reminders off of the last purchase date and make it super convenient to do business with you. This automation works best when you verify the reorder transaction has taken place.
Collect customer feedback and encourage online reviews – Social Proof is one of the essential factors in running a successful business. With Mailchimp QuickBooks integration, you can ask customers for feedback on your business at the transaction time or shortly afterward. You can use the campaign to request critical offline feedback and direct positive reviews to Google, Facebook, and Yelp. As a result, your online reputation will improve, and new customers will find and do business with you.
QuickBooks Online customers should give Mailchimp a second look.
If you are a QuickBooks Customer and haven't used MailChimp for your business before, maybe now is the time to give them a second look. The integration of Mailchimp and QuickBooks can add tremendous value to your business. Are you using QuickBooks Online and Mailchimp? Integration can provide valuable insights into your customer accounts and save time following up with customers on orders and service contract renewals.
Contact us if you need help setting up MailChimp, including integration with QuickBooks, salesforce.com or other CRM, your website, or eCommerce platform. We can also create email templates and automation campaigns to map your customer journey and help you grow your business.